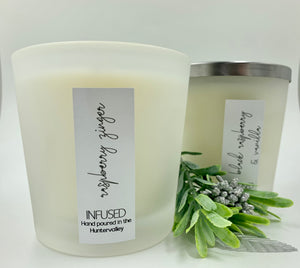 Velino range
Regular price $28.95 Sale
or make 4 interest-free payments of $7.24 AUD fortnightly with
More info
Velino Glass Tumbler represents the highest quality available in glassware and would equally be at home with the best department store products in New York or Paris, clean and elegant. Our Velino candles comes with a lid and also gifted boxed.
Our wax is 100% natural soy wax, giving a beautiful clean burn. Fragranced with high quality oils.
Burn time approximately 44 hours
Weight: 300 grams
Candle care
Your first candle burn is the most important
Burn between 3 and 4 hours to ensure that the wax has melted completely to the sides of the jar, this creates a memory for the next time when alight. This prevents tunneling of your candle
.Do not burn your candle for anymore than 4 hours
Do not let candle completely burn to the bottom of the jar, this increases the chance of the glass vessel exploding.
Always leave approximately 1cm of wax in the bottom of vessel.
Ensure that the wick is trimmed to at least 5mm, before every new burn. This will eliminate mushrooming of the wick and give a clean burn
 Fragrances
Very Vanilla 
 pineapple+coconut+vanilla bean
Vanilla Caramel 
salted caramel+coconut+tonka bean
Black raspberry vanilla 
blackberry+raspberry+vanilla+musk
Lemongrass & persian lime
  lime zest+lemongrass+vanilla bean
raspberry zinger 
raspberry+cherry+vanilla+musk
Australian sandalwood 
bergamot+orange+sandalwood+cedarwood
Strawberry milk
  peach+strawberry+vanilla bean+rosewater
Coconut,pineapple & vanilla 
 pineapple+lemon zest+coconut +iris+vanilla
Japanese honeysuckle
  mandarin+grape+neroli+vanilla+jasmin