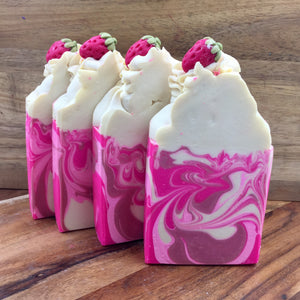 Strawberry and champagne
A distinctive combination of ripe strawberries and raspberries with notes of champagne and roses.
All artisan soaps are made with the highest quality plant based oils. NO added nasty chemicals.They also contain a high amount of coconut cream which insures that the soap has a creamy moisturizing effect.Please note -all soaps will vary slightly in design as each bar of soap is individually handmade.
Ingredients:
Olive oil,canola oil,coconut oil,coconut cream,distilled water,sustainable palm oil,sodium hydroxide,rice bran oil,castor oil,body safe fragrance,kaolin clay,sodium lactate,titanium